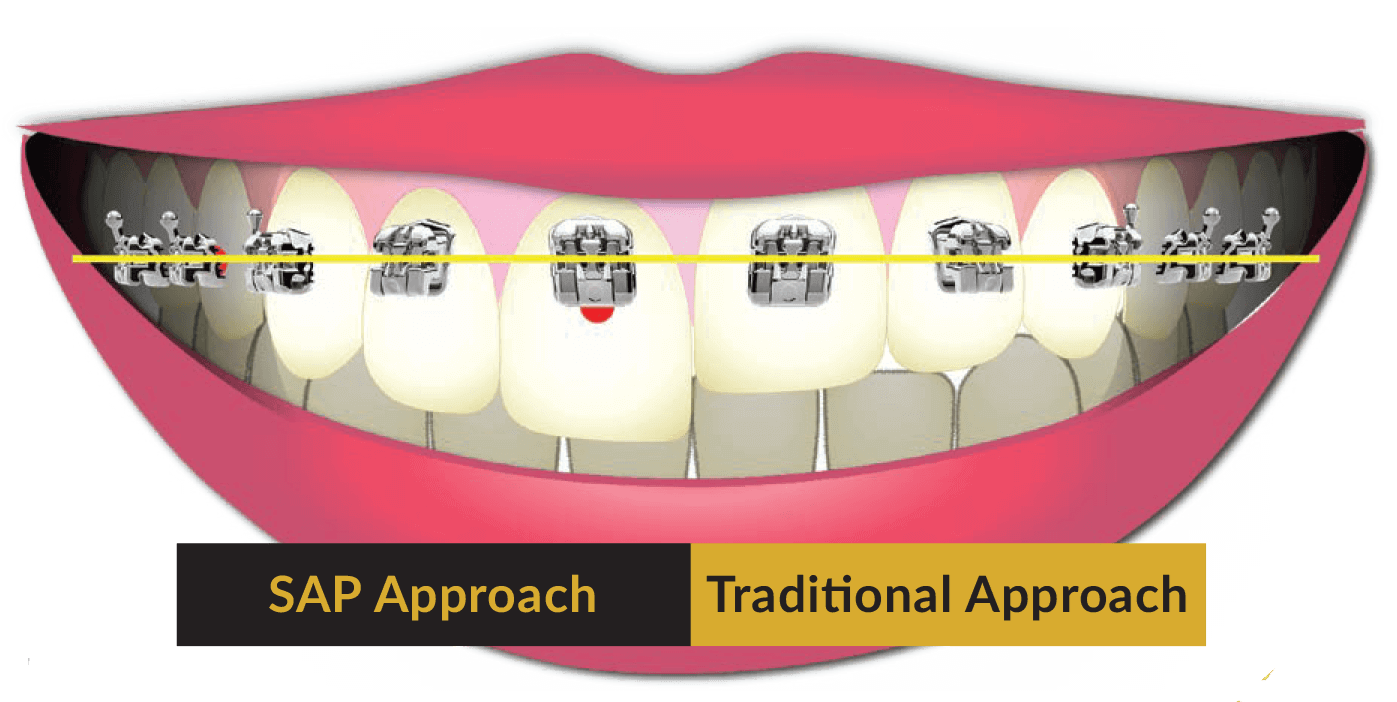 Traditional braces are typically attached to the tooth's front surface, usually right in the center. Though this helps align the patient's teeth, it can cause the flattening of the smile arc. In the Smile Arc Protection (SAP) technique, brackets are positioned close to the patient's gum line to create a more aesthetically pleasing result by extruding the anterior teeth, broadening the teeth, and enhancing their visibility. 
Smile Arc Protection (SAP) Technique
SAP bracket positioning involves positioning the upper brackets to protect the appearance of the smile. In this process, the upper incisor brackets are positioned more gingivally than the canine brackets. The dentist places the lower posterior brackets gingivally so as to prevent occlusion, whereas the lower anterior brackets are placed initially to optimize overbite.
Steps In Placing A Smile Arc Protection
The major difference between placing an SAP and traditional metal braces is that the brackets are placed closer to the patient's gums during SAP. The process starts with the dentist cleaning and polishing the patient's teeth. If the patient's teeth need to be recontoured, it is also done. Then, the brackets are fixed using a dental adhesive and are cured using a specialized blue LED light to fix the brackets in position. Once the brackets are in place, the dentist will position the wire inside the brackets.
It is normal that the patient may feel some discomfort or pain in their teeth and gums after the SAP is placed. This will subside soon when the instructions given by the dentist are properly followed. It is also vital to take care of the teeth and orthodontic appliances by following good oral hygiene practices. Your dentist will give you instructions on how to care for your teeth, which foods are safe to eat, and what to avoid. Additionally, it is important to attend follow-up appointments with your dentist so that the treatment progress can be evaluated and adjustments can be made if needed.
Though Smile Arc Protection usually entails positioning the brackets higher than normal, closer to the gums, the dentist may alter the overall bracket placement according to the patient's expected results, bite position, and the condition of their current smile. For instance, for patients with an overbite, the dentist may adjust the position of the lower anterior and posterior brackets to fix the bite.
Find Your Perfect Smile With SAP
A smile where the top teeth's edges follow the lower lip's curve is considered the ideal one. Smile Arc Protection is customized according to the patient's current smile and goals to help patients achieve this perfect smile. 
To find out more about the dental services offered at Pobanz Orthodontics, call (801)-627-0500 or schedule an online consultation. You can also visit us at 1508 Skyline Dr Ste 200 South Ogden, UT 84405 or 2717 N Hwy 89, Ste. 300, Pleasant View, Utah 84404.